Just checking to see how everyone is doing diring this crisis. Comment below!
Pretty good, but every day is kinda repetitive.
Can't wait for summer break where I don't have to focus on school as much.
Wbu?
I'm maintaining for the most part.
Holed up since March 13th. Still have not received any money at all (unemployment/stimulus check/SBA loan) from the government. My girlfriend is tho and my parents are helping out, which is a little embarrassing.
But then day-to-day life is fairly fine. We try to make a routine for ourselves (don't do work on weekends, weekdays we have breakfast 9-12, work 12-5, then dinner/fun at 5:00). That keeps us sane.
Some days are a lot and it's hard to balance keeping updated but not letting the news destroy my brain. It's so hard to wrap my mind around that huge gap of how this should be handled and what is being done. It's a little dehumanizing to be asked to make this sacrifice to save human lives and then Boeing gets its money in its hands first and then me and everyone I know is a distant afterthought
But also I feel like if things don't work out, I'll just start robbing rich people. Half the doormen on Park Ave are in the hospital, so…
…I'm sitting here…trying to decide whether I type out my honest state…or whether I fill this box with "I'm good…just going along."
and I think that alone…speaks for itself.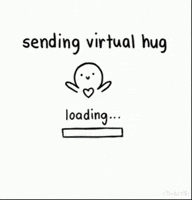 Not too bad. Maintaining, for the most part. Does get a bit repetitive, though; however, been trying to spice things up by breaking up the monotony. Just yesterday, in fact, I went about wearing my shirt as pants and my pants as a hat. It was productive only in that it definitely made things interesting; not so productive in the modular aspect.
I feel like the situation is this weird mix of bored, annoyed and a sprinkle of dread
I suppose.
For me it's…quiet.
Too quiet.
But I live alone. I don't have many friends…so it's a lot of me trying to keep myself semi-occupied and drown out silence with music.
I'll say it this way:
The only presence to grace the walls of my small two bedroom apartment for almost 2 months now…is my own…and it's beginning to wear on me…
I'm tired. Tired of the quiet. Tired of the endless stream of days that seem to repeat without variation. Tired of thinking…tired of myself really…
My state (Nebraska) never really fully shut down, and I'm considered an essential worker, even though my job isn't essential at all. So my regular life goes on, really.
My state (Georgia) actually opened up some businesses. A lot of people are against it, but I'm just glad that the gym is back open
Eating… pooping… waiting for Byte to blow up.
Going between being very busy to going bonkers waiting.
I wouldn't recommend crime. New technology will make it impossible to get away with. Short term gain for permanent consequences.
same here! texas began to open things too!